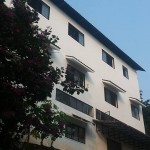 Thanks to various support we have already purchased 2 acres of land at Korothuvayal near Kakkor Panchayat in Kozhikode district. This is only a 45 minutes drive away from Kozhikode town where the girls will attend school. In December 2010 we started the construction on the site by building a water pump house which at the same time can be used as a guard house due to its strategic location at the entrance of the real estate. Then we proceeded by digging a big well that will serve as our principal water resource. Once this was done, we put in place a water tank so we could already irrigate the plants and trees. We continued by paving a road that leads in curves up to the highest point of the property. The land there was leveled so that in the end of 2011 we could begin with the construction on the 3000 square foot building, which in the first stage will be the girls' new home.
The construction of the first stage was completed by June 2012 and we moved in to the new location by end of July 2012 with a strength of 17 girls. Now we provide support to a total of 25 girls.
The second half is due for construction with the steady increase of inmates and the limited facilities available. We hope to provide better facilities by means of infra-structure in near future.
 In further steps we will then continuously add more buildings and facilities as we go along.  And with your kind help we will be able to accomplish our dream of accommodating up to 50 girls by the end of 2020. Please help us make this dream come true!