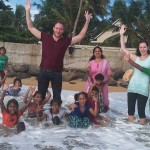 Why volunteer at the Sukritham Girls Home?
The answer is simple: You can have a truly memorable experience while at the same time making a difference in the lives of the girls by spending time with them, developing their skills, broadening their horizons and simply showing that you care. And besides it's a lot of fun!
Although any kind of teachers or persons willing to share their knowledge are welcome, we do specifically look for people who can do formal or informal classes with our girls on the subjects of art, dance, music, drama, drawing, craftwork and of course English . If you are not a native English speaker, that's not a problem, because the girls will love to learn some words of your own country's language as well.
To contact us and learn more about our organization, please fill in the form and sent to Mr.Mahadev, Founder, Sukritham Charitable Trust.